Each year the Hill County Aggie Moms' Club raises scholarship funds through various fundraisers.  The Aggie Moms award scholarships to deserving Hill County High School or Junior College students who will be attending Texas A&M University in College Station.
Students complete and submit the Hill County Aggie Scholarship Application and the scholarships are awarded at the annual Hill County Aggie Muster ceremony on April 21st.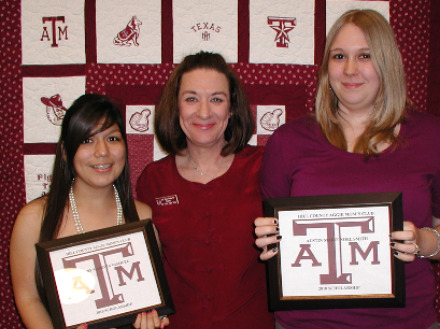 2010 Hill County Aggie Moms Club Scholarship Recipients      Aisury Vasquez (left) and Austin Smith (right)
with presenter Kari Moore Roush '80.

The 2010 Hill County Aggie Moms Scholarship Quilt
is shown in the background of the photo.
This Photo Courtesy of Art Mann and The Reporter Newspaper